Florida is a paradise for pool lovers. With its consistent tropical weather, having a pool is more than just a luxury – it's a way of life. But not all pools are created equal. If you dream of a one-of-a-kind backyard oasis, the ultimate choice is a custom pool builder. And when it comes to tailor-made pool designs, Better Pools And Spas in North Port reigns supreme.
What makes a custom pool builder stand out from the competition? Let's dive into the advantages.
Customized Designs Exclusively Tailored To Fit Your Needs
When you hire a custom pool builder, you unlock a world of design possibilities. Your pool doesn't have to be like anyone else's – it can be as unique as you are. Whether you prefer a sleek and modern style, a luxurious lagoon-inspired oasis, or something in between, a custom design can bring your vision to life and that's what Better Pools And Spas does best!
Get The Most Out Of Your Space With A Custom Pool
No matter the size, shape, or terrain, each property presents its own set of challenges. Better Pools And Spas, the leading custom pool builder in North Port and South West Florida, specializes in creating designs that maximize every inch of your space. Whether you have a vast estate or a small backyard, a custom pool design ensures that your pool perfectly fits your home.
Prioritizing Quality Above All Else
When you choose a custom pool builder, you're making a quality investment. Instead of settling for a generic option, the focus is on creating a durable pool that will stand the test of time. The meticulous attention to detail, from selecting the materials to utilizing advanced construction techniques, guarantees not only an appealing pool but also long-lasting enjoyment.
Integrating Landscape And Architecture: Custom Pools Combine The Beauty Of Nature And Design
A pool should never be an afterthought or a standalone addition. It should effortlessly blend with its surroundings. Custom pool builders are experts at seamlessly integrating the pool's design with the existing landscape and architecture. The outcome? An outdoor space that is harmonious and cohesive, creating a natural extension of your home.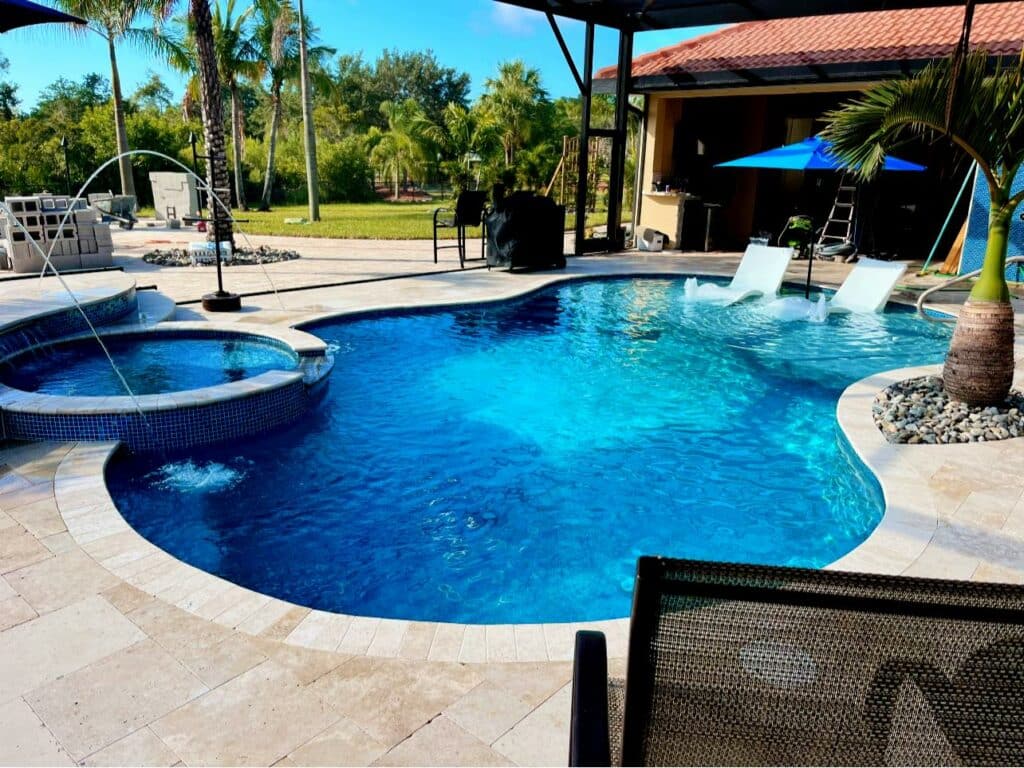 Luxury Amenities And Features
Imagine a cascading waterfall, a secret grotto, or a swim-up bar. With a custom pool builder, the only limit is your imagination. At Better Pools And Spas, we specialize in turning your dream features into reality. Our goal is to create a pool that is not just for swimming, but an unforgettable experience.
Attention To Detail And Personalization
Investing in a custom pool is a substantial commitment, and you deserve to be engaged throughout the entire process. By partnering with a custom pool builder, you'll enjoy a tailored experience. From the initial design conversations to the finishing details, your preferences and vision take center stage.
Enhancing The Value Of Your Property
A thoughtfully designed custom pool can greatly increase the value of your property. It's not merely an extension of your home; it's a statement. Potential buyers often perceive a custom pool as a luxurious feature, setting your property apart in the competitive real estate market.
Turn Your Dream Backyard Into Reality
By selecting Bettering Pools And Spas as your dedicated pool builder, you're not simply getting a pool; you're securing a pledge. A pledge of unparalleled excellence, unrivaled craftsmanship, and an unwavering devotion to ensuring your complete satisfaction.
We are a team of passionate experts dedicated to turning ordinary backyards into personalized paradises. With our extensive experience and an impressive portfolio, we have full confidence in our ability to bring your vision to life and create a masterpiece that truly resonates with you.
When considering the addition of a pool to your home, it is important to explore various options. However, opting for a custom approach with a reputable builder like Better Pools And Spas ensures a result that is truly unique to you. Choosing a custom pool builder is not just about acquiring a pool; it is about creating a personal oasis that will bring you joy, relaxation, and countless cherished memories for years to come. Embrace the custom experience; you won't be disappointed.
If you're looking to create a stunning swimming pool or a captivating backyard oasis, simply complete our consultation request form on our website or call (941) 467-6049.Our team of skilled designers will get in touch with you to discuss the next steps and bring your vision to life!